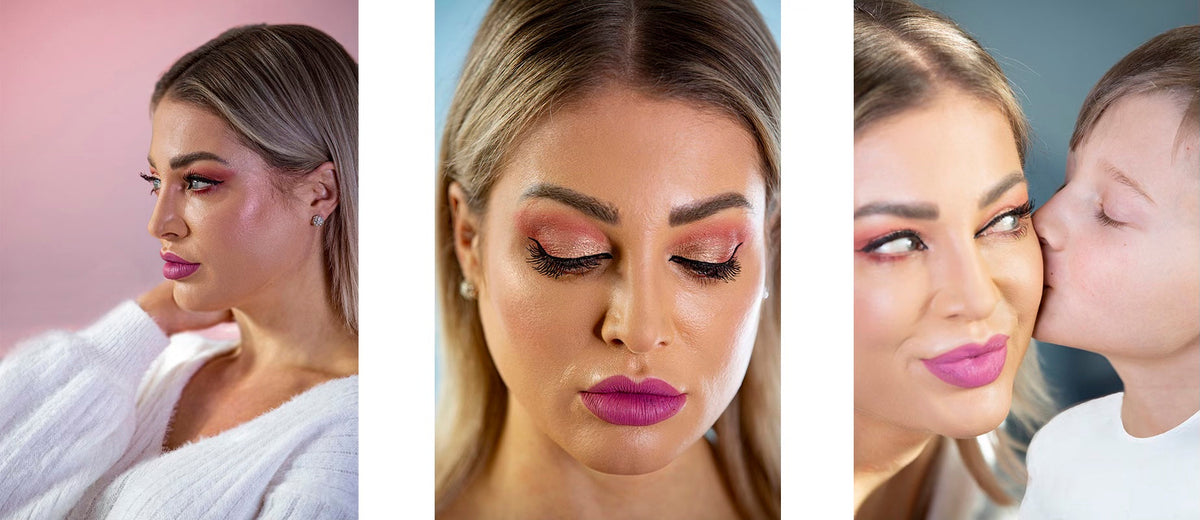 The Unfiltered Truth Behind Starting a Clean Beauty Brand
Lauren Bilon
Founder of Plume, mother of two, devoted wife, and unyielding entrepreneur.
This is her story behind starting a clean beauty brand. 
A journey into the unknown
When I started Plume in 2015 I had absolutely no idea about to how to start a business, but I knew what I'd created was worth sharing with the world. 

A year prior, I had lost my hair, my lashes, and my self esteem after giving birth and suffering from post-partum hypothyroidism. I felt like it was either going to make my life miserable in ways that I might never overcome, or that if I was willing to rise up and reinvent myself, that something truly good might come from it, although I had no idea what.

After mourning the loss of my previously abundant hair and naturally long lashes, I chose to reinvent. Through the tears, frustration, and uncertainty of venturing into the complete unknown, this exploration eventually become a business, a brand, and an adventure that would irreversibly change my life and the lives of others. It was by actually inventing that I was able to reinvent myself.
The struggles of early growth
Trying to grow a business in an extremely competitive industry while bringing up two young children (Onyx was one and Aveya was four at the time) may not have hurt as much as actual childbirth, but is was emotionally and psychologically much more draining and drawn out. We're constantly shown the glamour of entrepreneurship and the excitement of a growing business, but no one let me in on the level of sacrifice and endless commitment that my business would require.
After labor, you deliver a baby and the intense pain ends and you're united with your child. When you bring a business into the world, the real labor is only just beginning. You find yourself instead separated from your children. The flights to far away cities. Late night FaceTime calls, often avoided because they'll cause more longing and heartache than if your children don't see you at all. The brief, bittersweet, reunions with them before the next business trip, event, or media appearance. All the glamour and excitement was there in ample measure, but the sacrifices required are not something I'd wish on any mother.
Things going unexpectedly is just part of life. Sh*t happens, as they say, so just roll with it, right? What about when things going wrong in nearly catastrophic ways? Or when your life savings, other people's hard earned money, and your reputation is at stake?
Once Plume was fully on it's way, the clean beauty ethos of wellness and simplicity felt cruelly ironic as my cortisol levels soared to new heights. The ambiguity filled world of building a beauty brand with minimal resources is something I may have nama-stayed away from if I had any idea of how hard and scary it would actually be as the business began to grow.
Overcoming together
Some days, it felt like we were conquering the world. Others, the idea of simply giving up was beyond seductive. To be out from under the weight of it all would have been utterly liberating, but there was one person always there by my side, who managed to keep whatever flame of courage still left in me from going out completely. Holding my hand and moving me, often precariously, forward, my husband Brett, who scales frozen waterfalls and skis 'up' mountains for fun, always seemed more excited and positive than any sane person should be when things were as intense and unpredictable as they often were for us. Creating an innovative product out of little more than my own imagination and then somehow connecting the myriad dots of turning it into a legitimate clean-beauty brand would never have even dawned on me if weren't for him. He could see possibility and opportunity where other people would only see challenge and adversity. My vision may never have left our kitchen if it wasn't for him.
Our marriage was pushed to the breaking point more than once over the course of our Plume journey. There was even a period of separation, which took place during the least fortunate time possible; the first pandemic lock-downs. We made it through though, and like anything that endures hardship and survives, our marriage became even stronger once we reunited, this time with a level of perspective and understanding we didn't realize was possible.
Where we go now
Today, these hurdles, struggles, and near misses are like stones we've paved into the foundation laid out for Plume's road ahead. They might not look pretty in hindsight, but they add strength to the structure we've formed, and we couldn't be more excited about the exceptional, sustainable growth we now face. Our invention (a formula for promoting hair growth made solely from plant based ingredients) received a US Patent last year, we've secured a place among many of the top beauty retailers in the world including Credo Beauty, Nordstrom, and most recently Sephora (starting in Mexico), and we have our next hero products being released this year.


"To all of you who've supported me along the way, and believed in Plume's vision; thank you. I wouldn't be where I am today, and Plume would not exist, if not for all of you ❤️." - Lauren Bilon